Version 1.8.8 – Support for iOS11 new features
October 17, 2017 - The iOS 11 added new features for integrating access to third party file storage providers via new Files.app. Meanwhile iPads got new multitasking features with support for drag and drop. Landlordy version 1.8.8 adds support for these iOS new features and makes it more easy than ever to work with attached photos and files in the Landlordy.
Support for iOS11 Files app
iOS 11 gives you a new way to interact with files stored on iCloud or third party cloud storage services like Dropbox, Google Drive and others. New Files app, which replaces iOS 10's iCloud Drive app, lets you view, preview, organize, store, and share files.
Any photo or pdf file that is available in the new Files app can be added to Landlordy using Browse option in the Landlordy image/document picker. If you are using third party cloud storage for your files, make sure you have installed provider app on your device and added your storage provider in the Locations section in the Files app to get access to your files in the Files app and Landlordy image/document picker.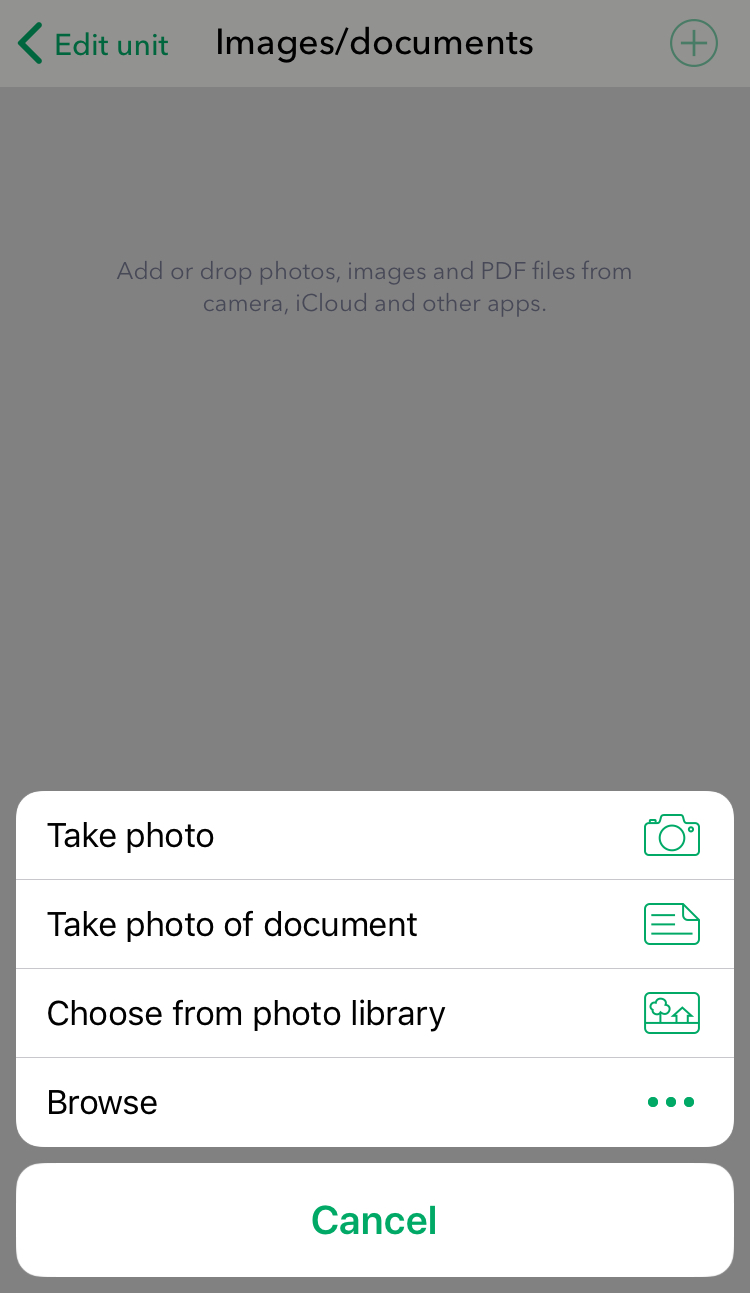 iPad Multitasking, Drag & Drop Support
To use Landlordy with another app in the Split View, first open Landlordy. Then swipe up from the bottom of the screen to pull up Dock, then drag the app you want to use side-by-side with Landlordy onto the left or right side of the Landlordy screen preview. A window will appear, showcasing the new app on top of Landlordy — both apps can be interacted with simultaneously (if your iPad supports it). You can also move the app window to either side of the screen at any time, or "pair" with the Landlordy permanently by putting it on the right side of the screen (feature not available on all iPads).
On iPad you can easily drag and drop images and PDF files into Landlordy from other apps and from Landlordy to other apps as well. You can drop photos and PDFs (from other apps to Landlordy) in all edit screens with attachment support. Check out video below to learn how to pair Landlordy with the Files app and add apartment photos by simply dragging them from Files to Landlordy.
Dragging attachments (from Landlordy to other apps) is available both in scrollable attachment list and attachment preview screen. It makes it easy to share attached images of PDF files by simply dragging them to another app. See an example video below that shows dragging attachments from Landlordy to Mail to send multiple apartment photos to prospective tenant.
Other Changes
There are many more smaller changes in the Landlordy. For list of changes for recent Landlordy versions please check out Landlordy Changelog. Many useful features and improvements we added over the last months did not get their own blogpost :)
We also updated Landlordy Tutorial describing first steps with the app and some advanced tips, tricks and productivity features.
As usual - if you have suggestions or questions regarding Landlordy app, feel free to contact us.
Landlordy team