Landlordy Changelog
If you like Landlordy, it would be awesome if you could take a minute to rate the app, or write a review. Just tap here to open the rating/review page to post or update your review. It means a lot to us, thank you!
NEW
Add/edit extra details on property - total floor/lot area, date built and purchase/current value. Add/edit extra details on rental unit - number of bedrooms/bathrooms, floor/lot area for unit and number of parking spots available.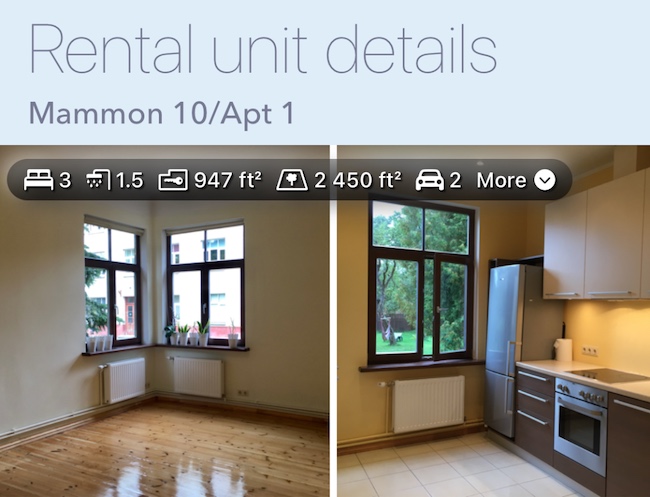 Property/rental unit floor/lot area is displayed over photos/attachments in the property/unit dashboard with the option to expand/show property details, notes, and related inventory/appliance items for property/unit.
Appliances are renamed to Inventory/appliances. Inventory/appliance details for property/unit are hidden by default and shown only when property/rental unit details are expanded. Added new default inventory/appliance types "Exterior" and "Interior" for tracking details and schedule and track maintenance/service details on roof, pool, floors, attic etc.
IMPROVED
Improved error messages when editing tenant/lease with period that overlaps with another lease for the same rental unit.
FIXED
Fixed attachments/photo display in attachment editing screen when [Smart Invert] accessibility option is enabled in the Settings.app.
Fixed minor UI issues in dark mode.
NEW
New cash-flow report option in the Reports tab - print or save PDF report of cash flow transactions, including your notes added to expense and rent payment records.
IMPROVED
Improved compatibility with upcoming iOS version.
FIXED
Fixed issue that may create duplicate recurring invoices/reminders when you are using app outside your default time zone.
NEW
Longtap on rental unit/tenant name in the property list to reveal quick actions for adding expense, rent payment (with balance covering amount already filled), sending late rent notice to tenant and tenant contacting options (if tenant email and/or phone number is added to tenant details).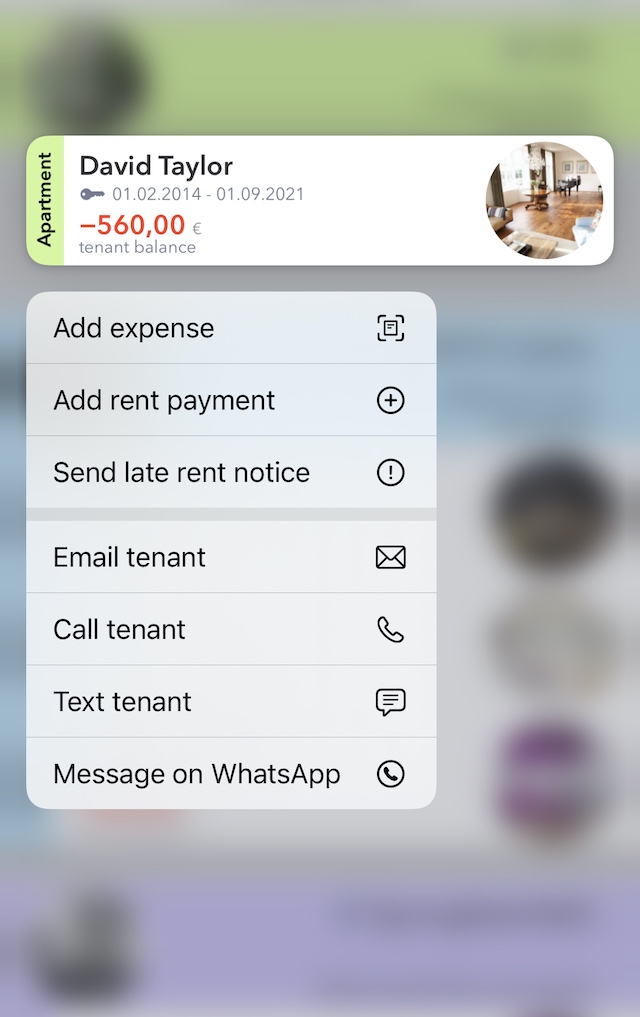 IMPROVED
Added WhatsApp to tenant contacting options if WhatsApp is installed on your device (tenant phone number should include country code).
FIXED
Bug fixes and performance improvements.
IMPROVED
Improved app experience if you are using alternate email clients (e.g. Gmail) and/or browsers (e.g. Chrome or Firefox) on iOS14. Read more on how you can change your default email and web apps on iOS 14.
Custom reporting period start/end dates in the Reports tab are preserved between app launches.
Rental unit can be deleted from the rental unit editing screen (as before you can also delete rental unit from the property editing screen by swiping on the rental unit).
FIXED
Fixed issue when restoring family shared in-app purchases via [Restore purchases] button.
Fixed date picker colors when app color theme does not match device color theme.
Other bug fixes and performance improvements.
IMPROVED
Performance improvements.
FIXED
Fixed issue: Appliance template changes ignored when sharing appliance details via email/message.
IMPROVED
Faster backups to Dropbox.
Improved support for iOS14.
FIXED
Fix issue when some of attachments are not backed up on first try.
NEW
Added [This + last month] tenant balance report.
IMPROVED
Renamed Current month/year to This month/year, Previous month/year to last month/year in user interface.
Warning in the invoice editing screen when invoice issue date is set before lease agreement start date.
Support for upcoming iOS version.
FIXED
Fixed crash when long-pressing on "No expenses" line in the Paid expenses screen.
Fixed crash in rent payment editing screen when re-assigning rent payment of former tenant via long-press on tenant header.
Fixed issue when restore fails for app database backups that does not contain any attachments.
Fixed occasional crash in screen for editing sharing template for expense.
IMPROVED
Added contextual actions (available with longtap in the list view) for rent invoice, rent payment and expense.
FIXED
Fixed date picker values appearance with app in light mode while your device is in dark mode.
Fixed occasional scrolling to the bottom of the list in the Properties tab.
Fixed adding attachments via [Paste from clipboard] option when PDF files are copied into the clipboard.
Fixed creating copy of expense using [Copy] swipe action on Unpaid/Late expense.
NEW
Better document scanning with automatic shutter (just keep you camera steady for a few seconds), extra options to correct perspective and adjust frame for individual scan as well as option to scan multiple document pages at once.
[Scan document] now is the first choice when adding attachments.
Attachments added with [Take photo] option are no longer in addition saved into your Photo Library.
Version 2.5.1 requires iOS 13.0 or later.
IMPROVED
Edit dialogs can be dismissed simply by swiping screen down (if no changes have been made) or by using [Esc] key on the iPad with external keyboard.
Using [Cmd+S] on iPad external keyboard saves data and closes edit screen.
FIXED
Fixed date picker color when app is in dark mode while device is in light mode.
Fixed issue where service provider details occasionally discarded when editing existing expense.
Fixed occasional app crash after restore from backup on iPad.
IMPROVED
"Rental income report" (available when tapping tenant name in the Reports tab and using share button) renamed to "Rent payments received" report.
Minor user interface and performance improvements.
FIXED
Fixed issue: recurring invoices are not autogenerated at designated time on certain conditions.
NEW
Added support for recurring expenses (Plus and Pro edition feature).
Arrears (total amount of outstanding rent payments) and total amount of unpaid expenses due are displayed in the Reminders tab when reminders are grouped by reminder type.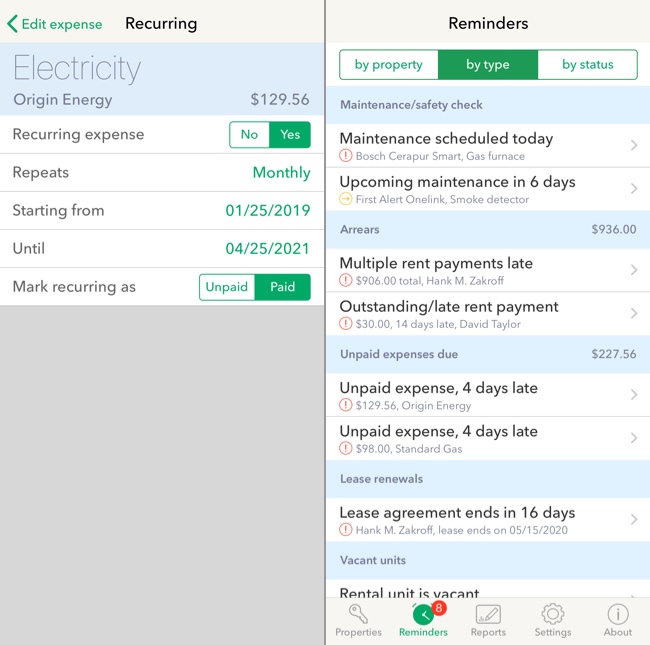 Added option to edit expense and rent payment details directly in the Reports tab.
Added option to share tenant balance report for previous month.
IMPROVED
Joined [Outstanding rent] and [Late rent payment] reminders into single reminder type.
Maintenance reminders start to appear 30 days before planned next maintenance date.
Better experience (less taps required) when adding unpaid expense with due date.
More unified look for rent payment receipt, rent invoice and tenant balance statement PDF reports.
Month-to-month leases have added "(m/m)" after lease period dates for easier glancing over tenant information.
FIXED
Fixed email subject when sharing rent balance statement or rent payment receipt from the app via email.
Fixed recurring rent invoice generation to ensure new invoices in the balance report appear before rent payments registered on the same date.
Fixed warning when lease agreement start date and first rent invoice dates are the same.
NEW
Added option to print or share rent payment receipt as PDF file (Plus and Pro feature).
IMPROVED
Improvements in tenant balance statement for displaying rent credit invoices (invoices with negative amount) and reversed/returned rent payments.
Rent invoices with negative total amount displayed as "Rent credit invoice" in the app.
FIXED
Fixed issue where app can occasionally freeze when returning to previous screen.
NEW
Option to add new rental unit directly in the property view.
FIXED
Fixed issue where app can occasionally freeze when returning to property list from the rental unit screen.
NEW
Added tenant balance statement report for current month, current year and previous year. Report is available in the tenant dashboard by using share button in the [Balance] tab.
IMPROVED
Changed tenant balance statement report format to better accomodate legal and accounting requirements.
Payments with negative amount are reported as reversed payments in the rent statement balance report.
Rent invoice details are included in the tenant balance statement report.
FIXED
Fixed bug when Export screen cannot be dismissed if in the sharing sheet [Share to Files] option is selected, and then cancelled.
NEW
Full data export of the app data (see new option in the Settings tab).
IMPROVED
Minor changes in new property adding wizard (on first launch).
Bug fixes and app performance improvements.
IMPROVED
Attachment picker uses 3-column view with bigger thumbnails for selecting images from Photos.
FIXED
Fixed issue: attachment picker not always scrolled to recent photos.
Fixed issue: rent invoice line not added if title for the line is not set.
Fixed issue: deleting payment, expense and appliance type doesn't update list of available types on iPad.
IMPROVED
Improved accessibility when using VoiceOver.
FIXED
Fixed issue: rent invoice does not contain rental fees set in tenant lease, if lease start date was set in the future.
Fixed issue: dark mode option occasionally not available in free app version.
Other minor bug fixes.
NEW
Support for iOS13.
Option to switch between dark and light mode is available in free app version as well.
IMPROVED
Better, more straightforward user interface for editing payment, expanse and appliance types in the Settings tab.
Performance improvements.
FIXED
Minor bug fixes.
NEW
Added dark mode option (premium feature).
IMPROVED
Added option to merge multiple expense categories into single one.
Added option to merge multiple payment types into single one.
Added option to merge multiple appliance types into single one.
FIXED
Fixed issue where app did not allow to use future date as reporting period end date.
IMPROVED
Added option to rename rental unit in the property edit screen (by tapping on the unit name).
Reports and PDF invoices can be dragged and dropped into other apps (on iPad with split view) from the report/invoice preview screen.
Company/owner screen (in the Settings tab) shows list of properties assigned to company/owner (Pro edition).
FIXED
Fixed suppressed line breaks for notes in the PDF invoice (Pro and Plus editions).
Fixed ocassional crash after new payment or invoice is added from the rental unit dashboard.
Fixed crash when payment/expense is added via 3DTouch on app icon.
Other bug fixes.
NEW
New upgrade options - Landlordy Mini, Landlordy Plus and Landlordy Pro (Pro replaces Landlordy Personal Edition).
Support for auto-generated rent invoices (Plus and Pro feature).
Print or share (as PDF file) professional-looking rent invoices with company/owner details on top (Plus and Pro feature).
Group properties into portfolios by assigning a property to a company/owner and get cash-flow reports for the company/owner (Pro feature).
Added support for month-to-month leases.
Added new report option in the Reports tab - print/share detailed cash-flow reports with individual transactions.
Summary cash-flow report in the Reports tab shows the percentage of an expense category in Total Expenses.
Added [Mark paid] swipe action in the Reminders tab for unpaid expense reminders.
IMPROVED
Rent payment or expense can be quickly added by using the (+) button in the the property list.
New rent invoicing period for tenant lease [Every 4 weeks].
Added option to include notes to a rent invoice, use new template tag ($invoiceNote) if you want to include notes in shared invoices.
Tenant email can contain multiple email addresses (add space to enter a second email address in the tenant screen).
Added deletion confirmation dialog for swipe-delete on rent invoice, payment, expense or appliance to avoid accidental swipe deletes.
Export (as CSV file) option moved under the share button in the Reports tab.
Expenses in the Reports tab summary cash-flow report are shown as negative numbers for consistency with printed/shared reports.
Next rent invoice reminders are tied to rent period start (not to previous rent invoice date).
Updated default template for sharing appliance details to include history of maintenance/safety check records. Please tap the [Reset] button in the appliance template edit screen to use the new template.
FIXED
Fixed crash when selecting attachment from Photos while switching between albums.
Note editing screen respects current text size accessibility settings on the device.
Fixed VoiceOver accessibility issues in the tenant/agreement edit screen.
Fixed issue when contact picker returned no contact details if the contact was an organization.
To see details on older Landlordy version updates, go to Landlordy version 1 changelog.