Landlordy Blog
To receive occasional updates on Landlordy news, tips and special deals directly to your email, please subscribe to the Landlordy newsletter.
July 2019 (version 2.1.0)
Landlordy 2.1.0 introduces dark mode (available in all premium app editions) as well as other improvements and bug fixes. Check out more details in the Landlordy Changelog.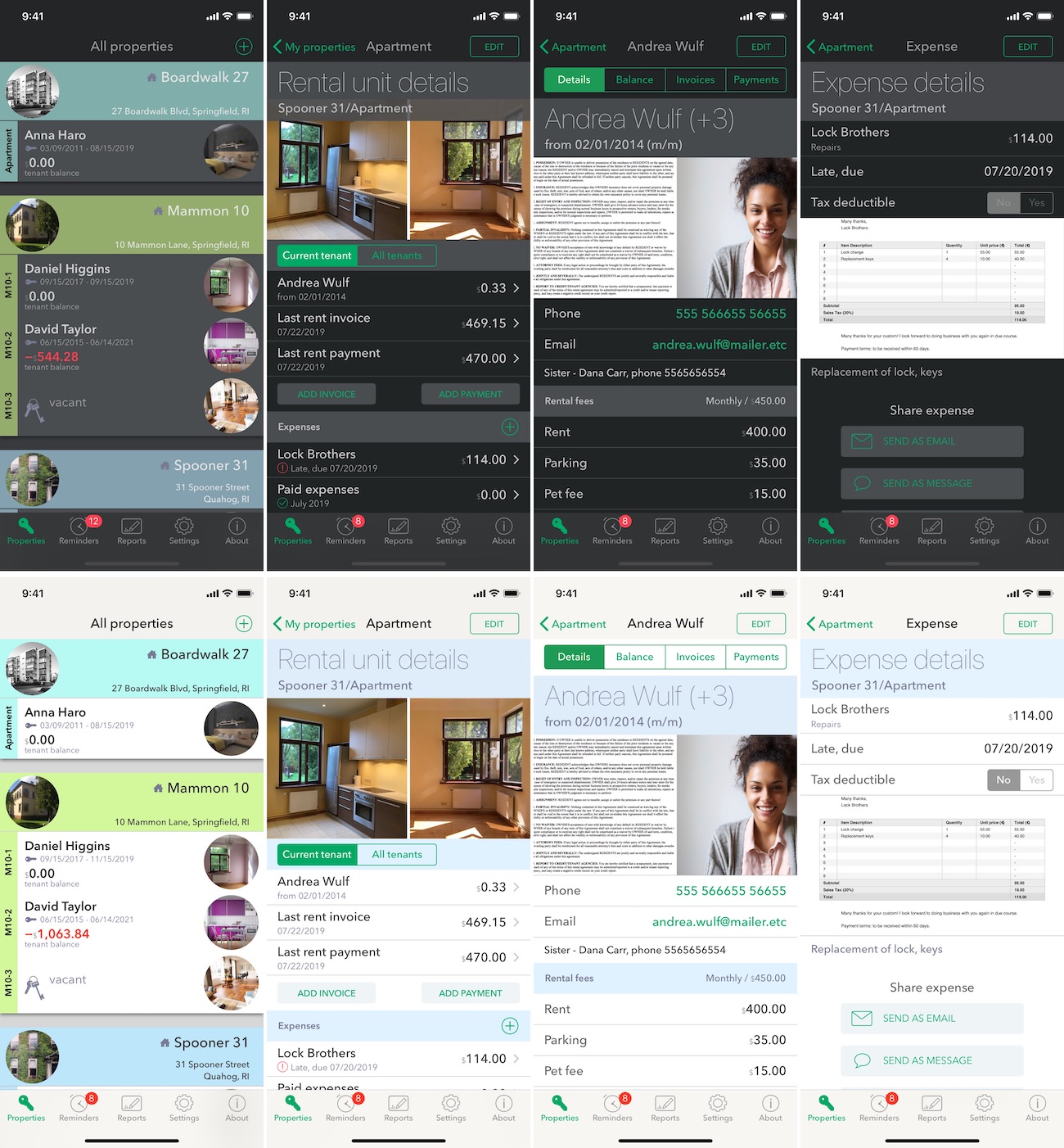 May 2019
Landlordy 2 is now available on the AppStore. Landlordy 2 comes with support for month-to-month leases, autogenerated rent invoices and improved reporting. Landlordy 2 lets you share PDF-format rent invoices and organize properties into multiple real estate portfolios. Read more...
Landlordy Tip – Data Export For Your Accountant
March, 2019
As tax season closes, don't forget about tax deductions for legitimate expenses related to running a rental property (including software costs) - check out this great guide and consult your accountant.
Use the [Export data] feature for sharing your rental income and expense details with your accountant as .csv file. Use the [Include attachments] option to add related attachments (photos of the expense receipts) to the data export.
For analyzing data by yourself open the .csv file in spreadsheet apps such as Microsoft Excel or Apple Numbers.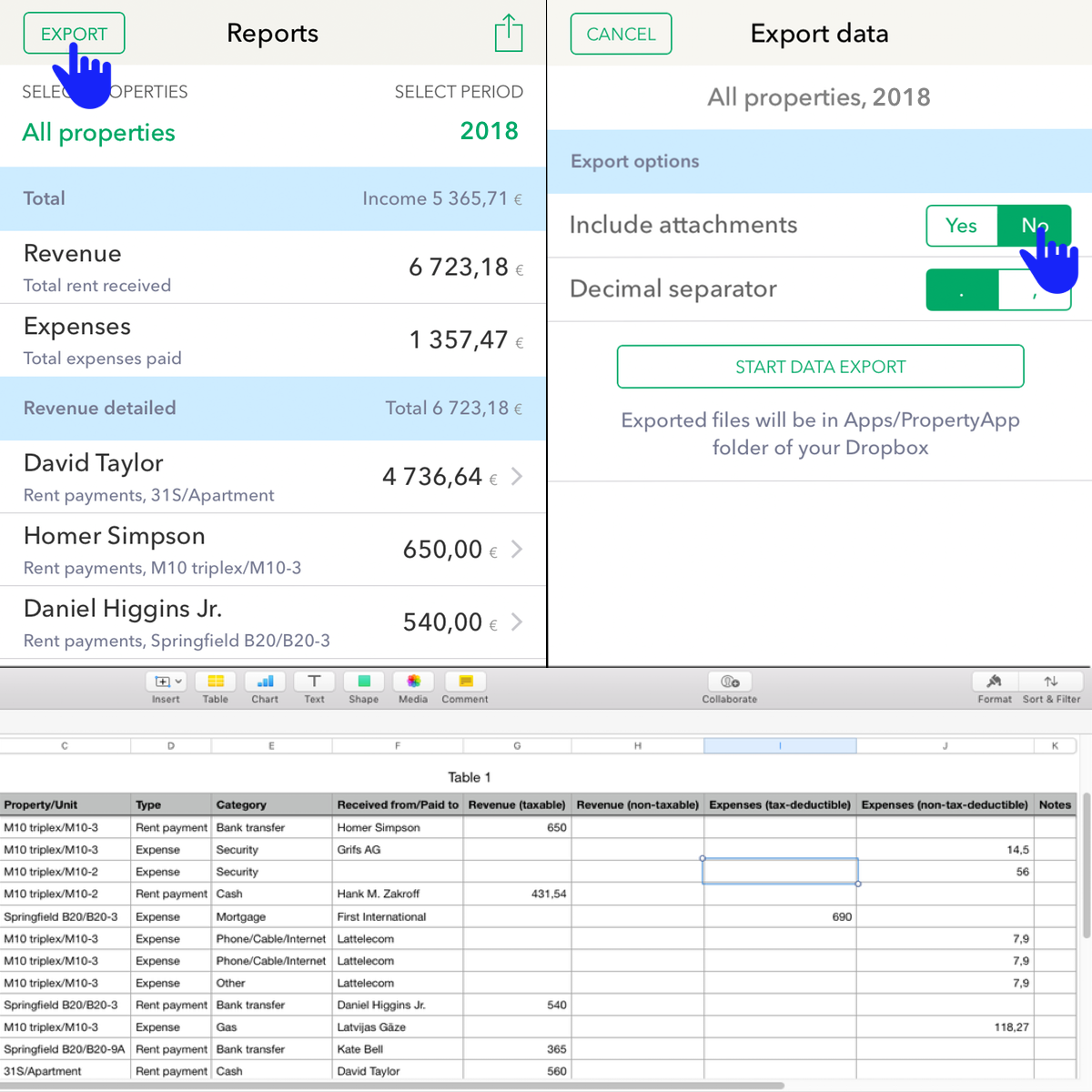 December 2018
Can you believe it's December already? During 2018 we released seven app updates. We spent a lot of time improving the foundation of Landlordy and we wanted to highlight some of the most important things we've done this year to enhance Landlordy's usability, performance and your data privacy. Read more...
July 2018
Some of the productivity features in Landlordy are hidden from plain sight and available with simple gestures such as swipe, longtap or 3D force touch (on iPhone models that support this feature). Let's explore these features! Read more...
September 2017 (version 1.8.8)
The iOS 11 added new features for integrating access to third party cloud file system providers via the new Files.app. Meanwhile iPads have received new multitasking features with support for drag and drop. Landlordy version 1.8.8 adds support for these new iOS features and makes it easier than ever to work with attached photos and files. Read more...
December 2016 (version 1.8)
Landlordy version 1.8 adds support for appliances and appliance maintenance records to manage information on appliances and other inventory, keep maintenance records and provide you with reminders of upcoming maintenance/check dates. Read more...
September 2016 (version 1.7)
During the last six weeks Landlordy received a number of updates focused on improvements for photo and document attachments (PDFs, finally!) and reminders. Yes, iOS10 support as well. Read more...
June 2016
We compiled a list of the best 15 apps (besides Landlordy) that help landlord lives be more productive, better organized and less stressful. Read more...
April 2016 (version 1.6)
We have plenty of news on the latest Landlordy app update, including printing support, improvements in sharing and other changes that will make Landlordy more useful and enjoyable for you. Read more...
January 2016 (version 1.5)
We hope your holidays were lovely and 2016 is off to a wonderful start! We took some time to celebrate the New Year and use part of December and January to make Landlordy even better, smarter and easier to use. Version 1.5 of the app is approved by Apple and is available in the App Store. Read more...
December 2015 (version 1.4)
New app name, new app features (specialized camera for taking photos of documents) and season greetings from the Landlordy team. Read more...
October 2015 (version 1.3)
If your rent invoices, received payments and expenses are fixed from month to month, creating them for the current month can be as easy as swiping on the previous month invoice/payment/expense in the list and creating a copy. Read more...
July 2015 (version 1.1)
Version 1.1 introduces a Reminders tab to remind you of late payments and expenses due, notify when it is time to create rent invoices for tenants in a timely fashion and know in advance when existing rent agreements are due to be renewed. Read more...