Landlordy Blog
To receive occasional updates on Landlordy news, tips and special deals directly to your email, please subscribe to the Landlordy newsletter.
October 2023 (version 2.8.1)
If your iPhone or iPad does not receive upgrades to iOS 16/17, you can still use your device with latest Landlordy app version, if your device runs on iOS 15.4 or later. While some of the features (like home screen or lock screen widgets) won't be available, essential functionality of the app is supported.
Read more in the Changelog...
Landlordy Widgets
August 2023 (version 2.8.0)
Version 2.8.0 adds multiple widgets for quick glance at your current month rent income, expenses and total number of current reminders for displaying Landlordy app data on your device lock screen, home screen or in Today view (widgets requires premium features enabled).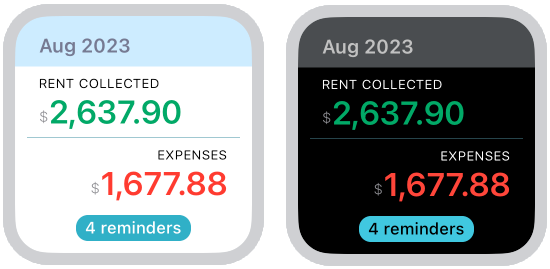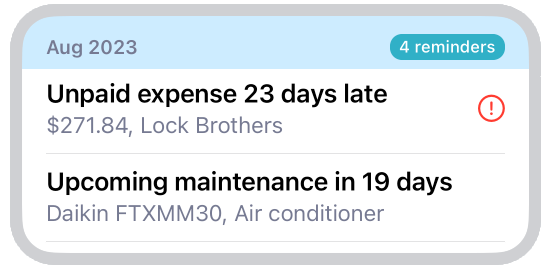 TIP: If you have not previously used home screen and lock screen widgets on your iPhone or iPad, see a how to add and edit widgets on on your device.

Landlordy Tips: Shortcuts
March 2023
Some of the Landlordy features are available via gestures such as swipe or longtap. Here's a quick recap of most useful shortcuts:
Longtap on tenant name in the property list to quickly add rent payment (with amount due already filled), send late rent notice to tenant or get tenant contacting options (if email and/or phone number is added to tenant details);


Swipe on reminder for late/outstanding rent to share late rent notice;


Longtap on rent invoice, expense or rent payment in the list to quickly create a copy (with today's date);


Swipe on item in the attachments list to set key/primary image or delete attachment;


Longtap on the header in the expense editing screen to assign rental expense to another property/rental unit.


Longtap on Landlordy app icon to quickly log expense or rent payment;
Landlordy Tips: Share Data With Your Accountant
Jaunuary 2023
As tax season approaches, don't forget about tax deductions for legitimate expenses related to running a rental property (including software costs) - check out this great guide and consult your accountant.
Use the data export feature for sharing your rental income and expense details with your accountant as spreadsheet-compatible .csv file. Use the [Include attachments] option to add related attachments (photos of the expense receipts) to the data export.
For analyzing data by yourself open the .csv file in spreadsheet apps such as Microsoft Excel or Apple Numbers.
December 2022 (version 2.7.4)
Version 2.7.4 ships with more convenient pickers for selecting expense category/payment type and date selection picker with calendar view that matches date selection in default iOS apps.
TIP: Double tapping on the date in date picker will select and confirm date selection (without need to confirm data selection with [OK] button).
Read more in the Changelog...
August 2022 (version 2.7.2)
Version 2.7.2 adds autocompletion suggestions when entering [Pay to] field in the expense editing screen or [Received from] field in the rent payment editing screen. Just start typing and relevant suggestions, based on previous data in the app will apear to make tracking of expenses/rent payments quickier and more easy.
Read more in the Changelog...
May 2022 (version 2.7.1)
Added option to select currency formatting in the app independently from your device regional settings - handy if your rental properties are outside your home-country.
Read more in the Changelog...
December 2021 (version 2.7.0)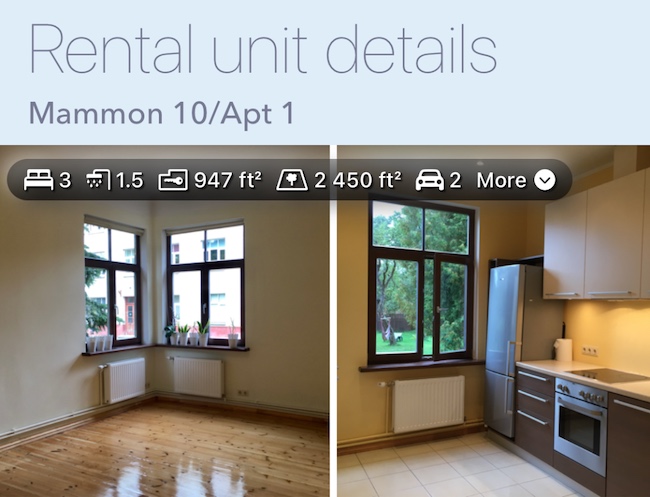 Version 2.7.0 lets you add more information on your properties/units (e.g. total floor/lot area, number of bedrooms/bathrooms, property price/value, etc.) with an option to expand details, notes and related inventory items/appliances in the property/unit dashboard screen (appliances are renamed to [Inventory/appliances] and moved under property/unit details).
Read more in the Changelog...
September 2021 (version 2.6.2)
Support for iOS15, new cash-flow report option (with expense/payment notes included), and number of performance improvements and bug fixes.
Read more in the Changelog...
May 2021 (version 2.6.1)
Longtap on rental unit/tenant name in the property list to reveal quick actions for adding expense, rent payment (with balance covering amount already filled), sending late rent notice to tenant and tenant contacting options (if tenant email and/or phone number is added to tenant details).
Check out other Landlordy shorcuts available with swipe or longtap.
February 2021 (version 2.6.0)
Version 2.6.0 adds better support and improves user experience if you are using alternate email clients (e.g. Gmail) or if you have changed default web browser (e.g. to Chrome or Forefox) on your device with iOS14 installed.
Read more in the Changelog...
July 2020 (version 2.5)
Version 2.5 adds better document scanner with automatic shutter (just keep you camera steady for a few seconds) and option to scan multiple document pages at once.
Read more in the Changelog...
April 2020 (version 2.4)
Since the beginning of March when we released the latest Landlordy update, the world has changed. Yet, one constant has remained throughout the lockdown, which is our focus on making Landlordy a better, more useful app. Here's what is new in Landlordy version 2.4. Read more...
March 2020 (version 2.3.5)
Latest Landlordy update adds option to print or share (as PDF file) rent payment receipt (Plus and Pro edition feature) and provides improved rent statement balance report with option to create balance statement for current month, this/last year in addition to full rent statement balance report.
Balance statement report includes more details to better accomodate legal and accounting requirements. Check out more details on the release in Landlordy Changelog.
July 2019 (version 2.1)
Landlordy 2.1.0 introduces dark mode (available in all premium app editions) as well as other improvements and bug fixes. Check out more details on the release in Landlordy Changelog.
May 2019 (version 2.0)
Landlordy 2 is now available on the AppStore. Landlordy 2 comes with support for month-to-month leases, autogenerated rent invoices and improved reporting. Landlordy 2 lets you share PDF-format rent invoices and organize properties into multiple real estate portfolios. Read more...
December 2018
Can you believe it's December already? During 2018 we released seven app updates. We spent a lot of time improving the foundation of Landlordy and we wanted to highlight some of the most important things we've done this year to enhance Landlordy's usability, performance and your data privacy. Read more...
July 2018
Some of the productivity features in Landlordy are hidden from plain sight and available with simple gestures such as swipe, longtap or 3D force touch (on iPhone models that support this feature). Let's explore these features! Read more...
September 2017 (version 1.8.8)
The iOS 11 added new features for integrating access to third party cloud file system providers via the new Files.app. Meanwhile iPads have received new multitasking features with support for drag and drop. Landlordy version 1.8.8 adds support for these new iOS features and makes it easier than ever to work with attached photos and files. Read more...
December 2016 (version 1.8)
Landlordy version 1.8 adds support for appliances and appliance maintenance records to manage information on appliances and other inventory, keep maintenance records and provide you with reminders of upcoming maintenance/check dates. Read more...
September 2016 (version 1.7)
During the last six weeks Landlordy received a number of updates focused on improvements for photo and document attachments (PDFs, finally!) and reminders. Yes, iOS10 support as well. Read more...
April 2016 (version 1.6)
We have plenty of news on the latest Landlordy app update, including printing support, improvements in sharing and other changes that will make Landlordy more useful and enjoyable for you. Read more...
January 2016 (version 1.5)
We hope your holidays were lovely and 2016 is off to a wonderful start! We took some time to celebrate the New Year and use part of December and January to make Landlordy even better, smarter and easier to use. Version 1.5 of the app is approved by Apple and is available in the App Store. Read more...
December 2015 (version 1.4)
New app name, new app features (specialized camera for taking photos of documents) and season greetings from the Landlordy team. Read more...
October 2015 (version 1.3)
If your rent invoices, received payments and expenses are fixed from month to month, creating them for the current month can be as easy as swiping on the previous month invoice/payment/expense in the list and creating a copy. Read more...
July 2015 (version 1.1)
Version 1.1 introduces a Reminders tab to remind you of late payments and expenses due, notify when it is time to create rent invoices for tenants in a timely fashion and know in advance when existing rent agreements are due to be renewed. Read more...