Landlordy 2 Has Arrived
Landlordy 2 is now available on the AppStore. Landlordy 2 comes with support for month-to-month leases, autogenerated rent invoices and improved reporting. Landlordy 2 lets you share PDF-format rent invoices and organize properties into multiple real estate portfolios.
Landlordy 2 also includes new upgrade options for enabling premium features - Landlordy Mini, Landlordy Plus and Landlordy Pro. Landlordy 2 is a free update for all Landlordy customers.
Introducing Landlordy Mini, Plus and Pro
Landlordy 2 introduces new options which enable premium features for users:
Landlordy Mini - manage up to two rental units. Budget option for starting landlords.
Landlordy Plus - manage up to 10 rental units. Suitable for landlords managing direct ownership properties.
Landlordy Pro - unlimited number of rental units with support for multiple portfolios. Suitable for landlords who organize their business into multiple legal entities or property managers/agents serving multiple landlords.
You can learn more about the upgrade options and read descriptions of all premium features in the Pricing page.
Existing Landlordy version 1.x users with Personal Edition premium features are entitled to a free upgrade to Landlordy Pro.
Improved Rent Invoices
Landlordy Plus and Landlordy Pro support auto-generated invoices - rent invoices for the current rent period appear automatically on the app. You can still edit individual invoices to add, adjust or remove invoice lines. Landlordy 2 also provides an option to add notes to the invoice.
You can enable auto-generated invoices for each tenant/lease individually in the Tenant/lease screen or for all active tenants at once on the Settings tab by using the [Enable automatic rent invoices] option.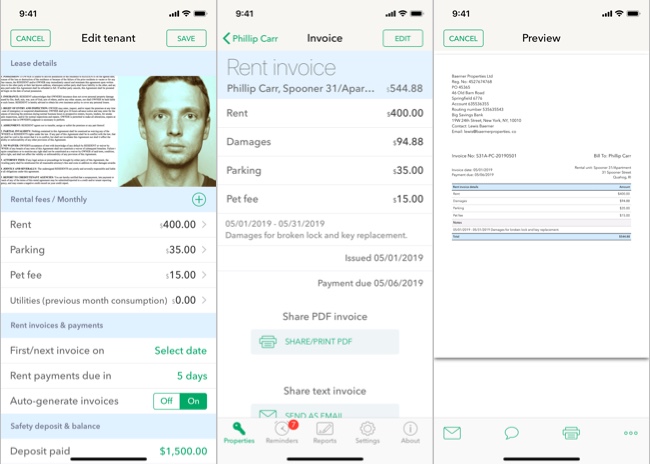 Landlordy Plus and Landlordy Pro also let you print or share (as a PDF file) professional-looking rent invoices with your (or your company's) details on top. Take a look at this PDF invoice example.
Improved Reports
Landordy 2 adds the option to print/share as a PDF file detailed cash-flow reports with individual income/expense transactions (take a look on this example of detailed cash-flow report).
The Summary cash-flow report in the Reports tab (as well as in the printed/PDF report) shows the percentage of each Expense category in Total Expenses for the selected period.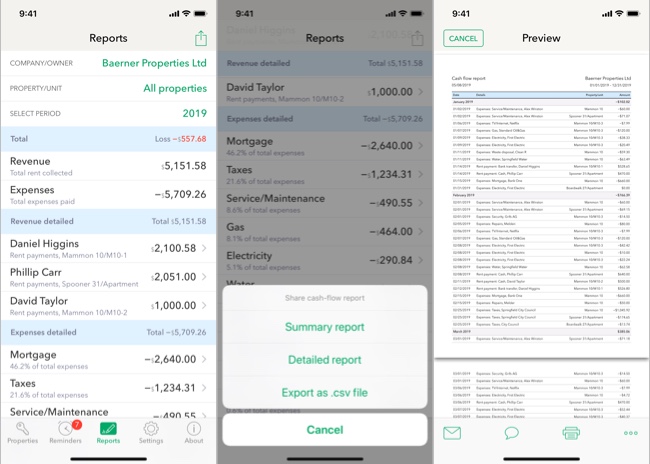 Users with Landlordy Pro can filter reports by owner/company to get summary/detailed cash-flow reports for all properties belonging to a selected company/owner.
Other Improvements
There are more improvements and features in Landlordy 2, including support for month-to-month leases, new rent invoicing period (every 4 weeks), updated sharing templates, improved swipe actions and more. You can check out the full list in the Landlordy Changelog.
Thank You for Your Patience!
Landlordy 2 took way longer than we were expecting at the end of 2018. We are committed to improve the app in the future to help every independent landlord to become more informed, better organized and more effective in dealing with their everyday property management duties.
If you are happy with the improvements and new features that Landlordy 2 offers, we would be thankful to receive your updated review/rating for Landlordy 2 in the App Store (you can do this from the Landlordy 2 app itself by tapping [Review Landlordy] option in the About tab).
Thank you,
Landlordy Team